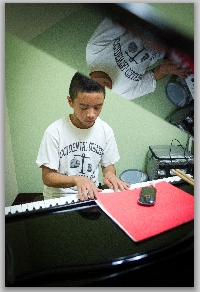 Bloom School of Music and Dance
2116 Colorado Blvd
Los Angeles, CA 90041
p 323.982.1655
f: 323.982.1652
e: info@bloomschoolofmusic.com
Los Angeles and Eagle Rock Piano Lessons
If you are looking for inspiring piano instruction, you've come to the right place!
Bloom School of Music and Dance, located in the heart of Eagle Rock, offers piano and keyboard lessons for ages 6 and up in a friendly, supportive environment. All our instructor are University trained and are qualified to teach a variety of styles at all levels and ages. Bloom School also offers plenty of performance opportunities as well as ensembles to engage and inspire the growing musician!
The Right Age To Start!
We believe that private piano lessons should not begin until the child is at least 6 years of age. For those families who are interested in piano but the child is 5 or just turning 6, Bloom School offers the Music Fundamentals class. This class is a fantastic way to get your child involved with learning and making music that is much more intuitive, productive and fun for that age. You can learn about this class as well as our other early childhood music classes by clicking here. Adults can start at any age. It's never too late!
5 Ways To Get the Most Out of Piano Lessons
Take lessons in a professional environment.
Use nationally recognized teaching materials.
Insist on private one on one instruction.
Take lessons from a qualified, university trained teacher.
Choose music that is interesting to you or your child.
We are located at 2116 Colorado Blvd, Los Angeles Ca 90041 Call us today at 323-982-1655 or visit us at Bloom School of Music & Dance and start learning piano today! Click here for further details.